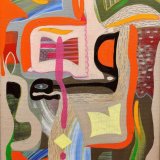 I live in Cheltenham and was born near Stroud, Gloucestershire, UK, into a family of six children, I had an Aunt who was a potter and my Great Grandfather was a stained glass window artist.
I always wanted to paint and I did all the time I was growing up but I didn't have the opportunity until later on. I had many different jobs and for quite a while I sold Art Deco and Mid Century objects and furniture in various shops around Cheltenham. It was only when I was in my forties that I was able to do my Fine Art painting degree at the University of Gloucestershire.
I work in oils, pastels and more recently mixed media, the painting is abstract and semi abstract with hybridised versions of everyday objects subsumed into the abstraction. I work intuitively and the concept is generated through the practice, ultimately exploring the relationships of colour and form, incorporating mark making and sometimes collage with various textures and layers. I'm processing emotions and remembering certain moments in my life, whilst the music I listen to connects to the painting - one abstract thing feeding another.
I'm looking for a sort of visual poetic harmony, if it comes together I'm happy.